Mazer Cup Judging 1999
Here are some pictures of the Mazer Cup judging on February 27th. The judging was held at Jeff Renner's house. Two turkeys were thrown on the grill and left to cook basically unattended during the judging. They turned out perfect!
You can click on any picture and get a larger picture. Send me an e-mail if you want a really big picture (1536x1024) of any of these.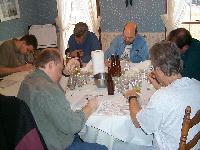 Three flights of Show Meads. Back row - René Derieux, Spencer Thomas, Mike "Pico Guy" O'Brien, and someone who's name I don't know. Front Row - Pete Wilson and Gary Cassady.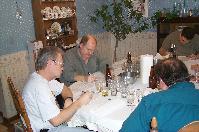 Pete Wilson and Gary Cassady. René Derieux in the back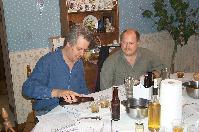 Spencer Thomas and Pete Wilson finishing up braggot/bracket flight.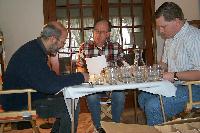 Jeff Renner, Dan McConnell and some Frog Head (Phil Wilcox) judge pyments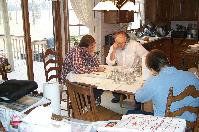 Hal Buttermore and Jim Booth judging their flight of open/combined. Ken Schramm with his back to the camera
Hal Buttermore and Jim Booth discuss the open/combination category.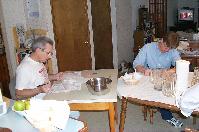 Paperwork was handled by Bill Pfeiffer. Ken Schramm prepares for our flight of Cysers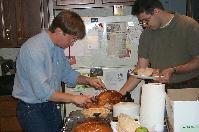 Ken carves up one of the two turkeys. René loads up.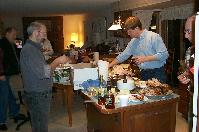 Dan McConnell watches as Ken carves up the second bird. That's Jeff's beak poking out from behind the fridge.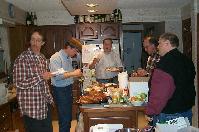 Hal, Ken, Phil, Jeff and Pete Wilson.
---
Main Mazer page
Second Round page
Third Round page
Copyright March 1999